Check out what BioSA has planned in the coming weeks!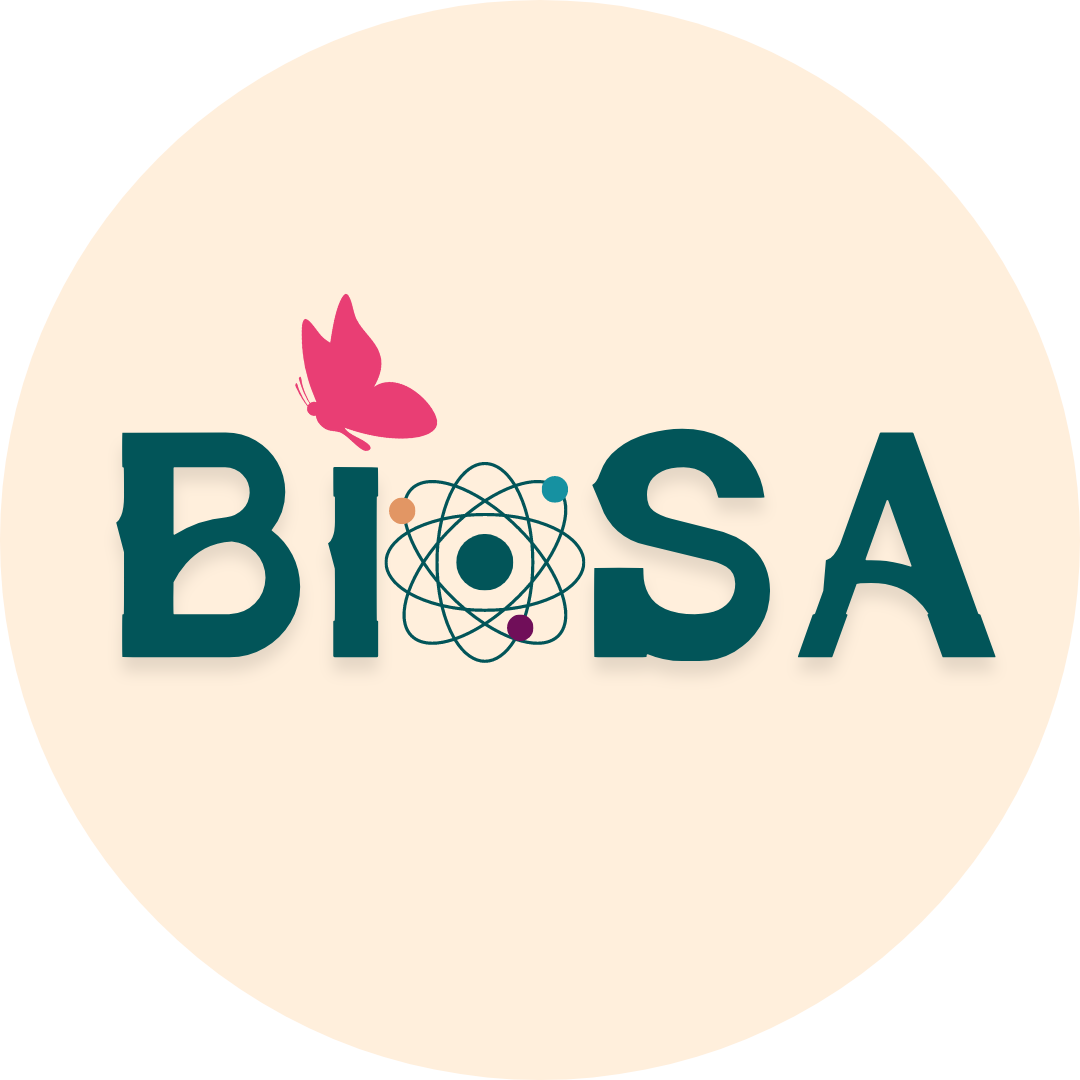 Coming Soon
Stay tuned for our upcoming events!
Check out some of BioSA's past events!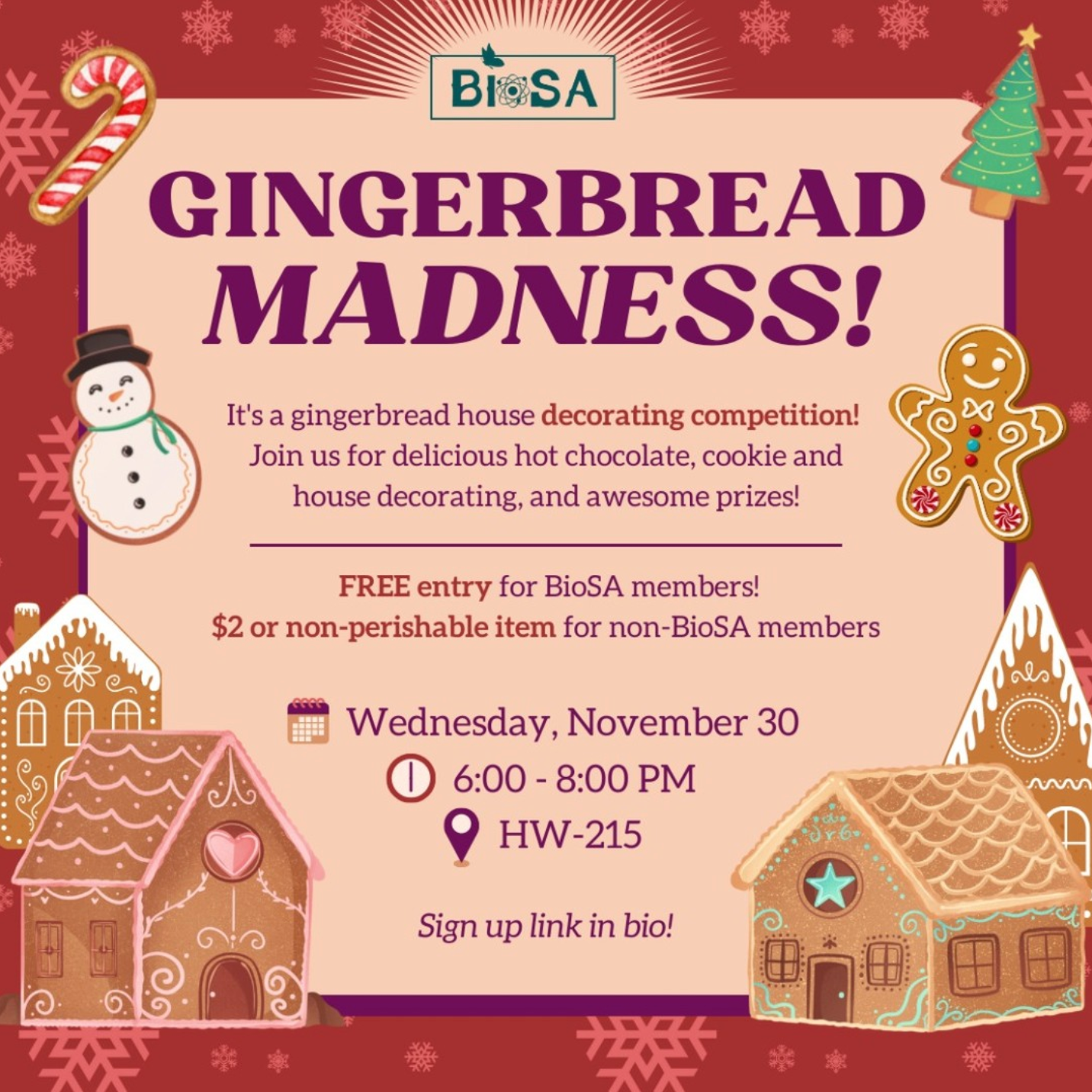 Gingerbread Madness
Do you want to do something fun this holiday season? Join us on our Gingerbread MADNESS!! It is a gingerbread house decorating competition where you can win awesome prizes and enjoy warm hot chocolate with cookies! Entry is free for BioSA members and $2 or non-perishable item for non-members.



Time: November 30, 6-8 PM | Location: HW215
MMI Info Session
Interested in going to med school? Nervous about the interview process? Want to know what MMI is all about? Then you better be at the Multiple Mini Interview (MMI) Information Session hosted by our FANTASTIC partners at The Princeton Review! If you join, you'll get the best insights into acing the 6-10 mini interviews of the MMI process that are used by some Ontario medical schools. We'll be joined by experts from the Princeton Review who have substantial experience with preparing undergraduate students for the med school interview process!

Time: November 29, 6-7:30 PM | Location: Online
Paw-liday Fundraiser
Looking for a way to relax before finals? Join us for our Paw-liday fundraiser where you will get to meet therapy dogs and get access to other fun activities! Entry is free for BioSA members and $2 for non-members.




Time: November 28, 5:30-7:30 PM | Location: SW309
MMPA Information Session
Are you interested in learning about your options after a science undergrad? BioSA and EPSA are excited to welcome MMPA, the Master of Management & Professional Accounting program at UofT, to host an information session about their graduate program!
Join us to learn about how MMPA can help YOU combine science with business to make way for exciting career opportunities in finance, accounting, management, finance, and more!


Time: November 15, 6-7 PM | Location: EV 152 (Catalyst Centre)
Meet & Greet with a Dentist
Dr. Vik Mankotia is a dentist practicing in Rosefinch Family Dental located in Pickering, Ontario. Since graduating from Schulich School of Medicine & Dentistry in Western University, Dr. Vik has dedicated his life to take care of all the oral health needs from young to old. Join this event to network with Dr. Vik and ask him any question related to dentistry! For aspiring dentists who wants to know more about what it's like being a dentist, or curious about Dr. Vik's career path from dental school to opening his own practice this is an online event that you cannot miss!

Time: November 9, 6-7:30 PM | Location: Online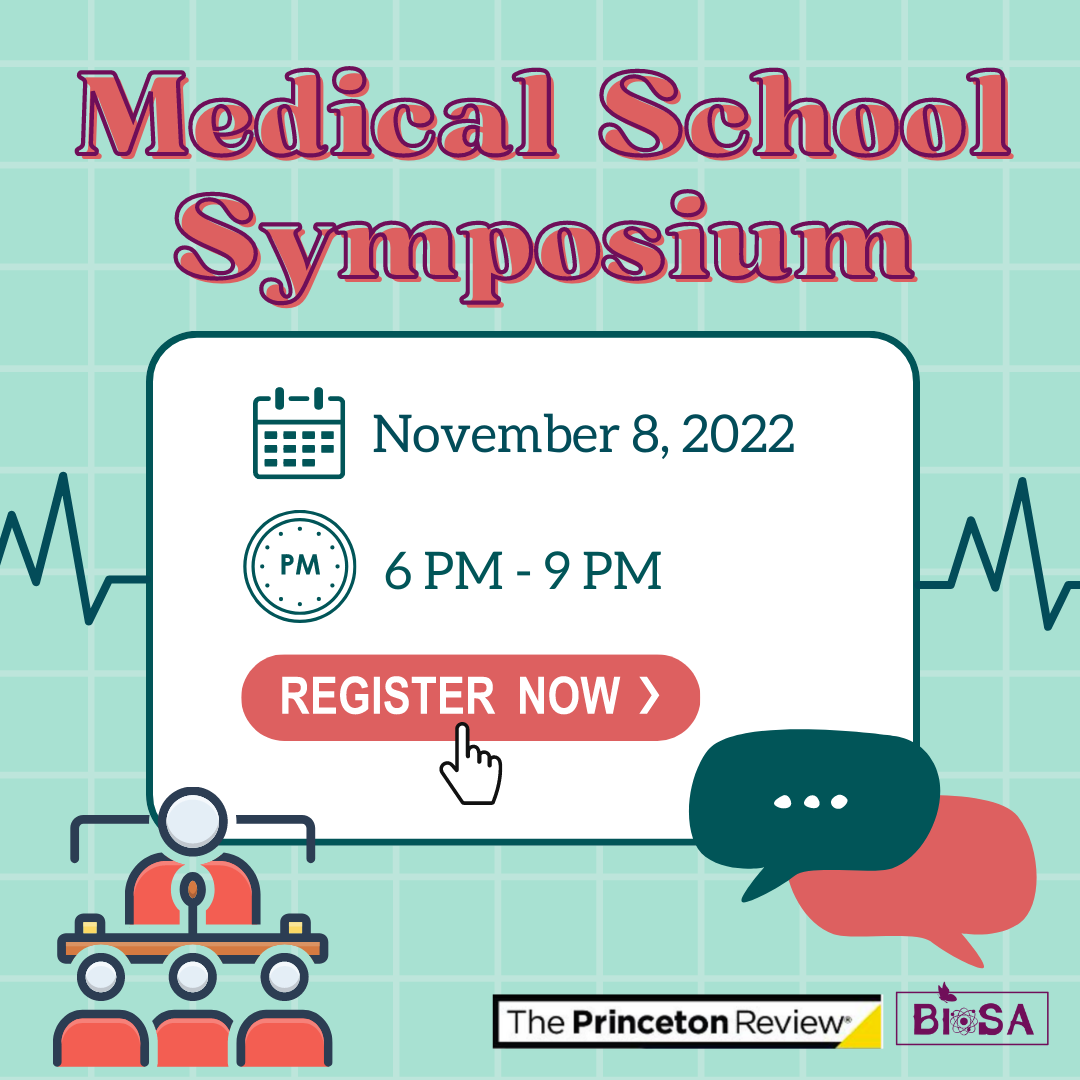 Medical School Symposium
The Princeton Review will be hosting a virtual Medical School Symposium. This exciting event includes an overview of the application process to medical school, strategy session for the MCAT, and a Q&A panel of med students and med school graduates! Click the link below to register now. Course ID: 503776



Time: November 8, 6-9 PM | Location: Online
Virtual Mock MCAT Day
Join for a free practice MCAT with The Princeton Review. You will be virtually proctored by one of our awesome reps! After the test, you will get free access to a detailed, interactive score report! Click the link below to register now. Course ID: 503776



Time: November 5, 9-4:30 PM | Location: Online
Professor Mix & Mingle
Hoping to connect with professors and other professionals in your field? Attend our Professor Mix & Mingle to network with professors and other fellow biology students in a casual setting. Keep an eye out for a post on which professors will be attending. FREE snacks and refreshments will be offered!



Time: November 3, 3-5 PM | Location: MW Atrium
Halloween Carnival
Come join us at our Halloween carnival!

You'll get a chance to have fun in our various different activity booths and don't forget to wear your costumes
to take lots of pictures at our photobooth!

Free entry for BioSA members ($2 or non-perishable food item for non-members).


Time: October 31, 6-8 PM | Location: SW 128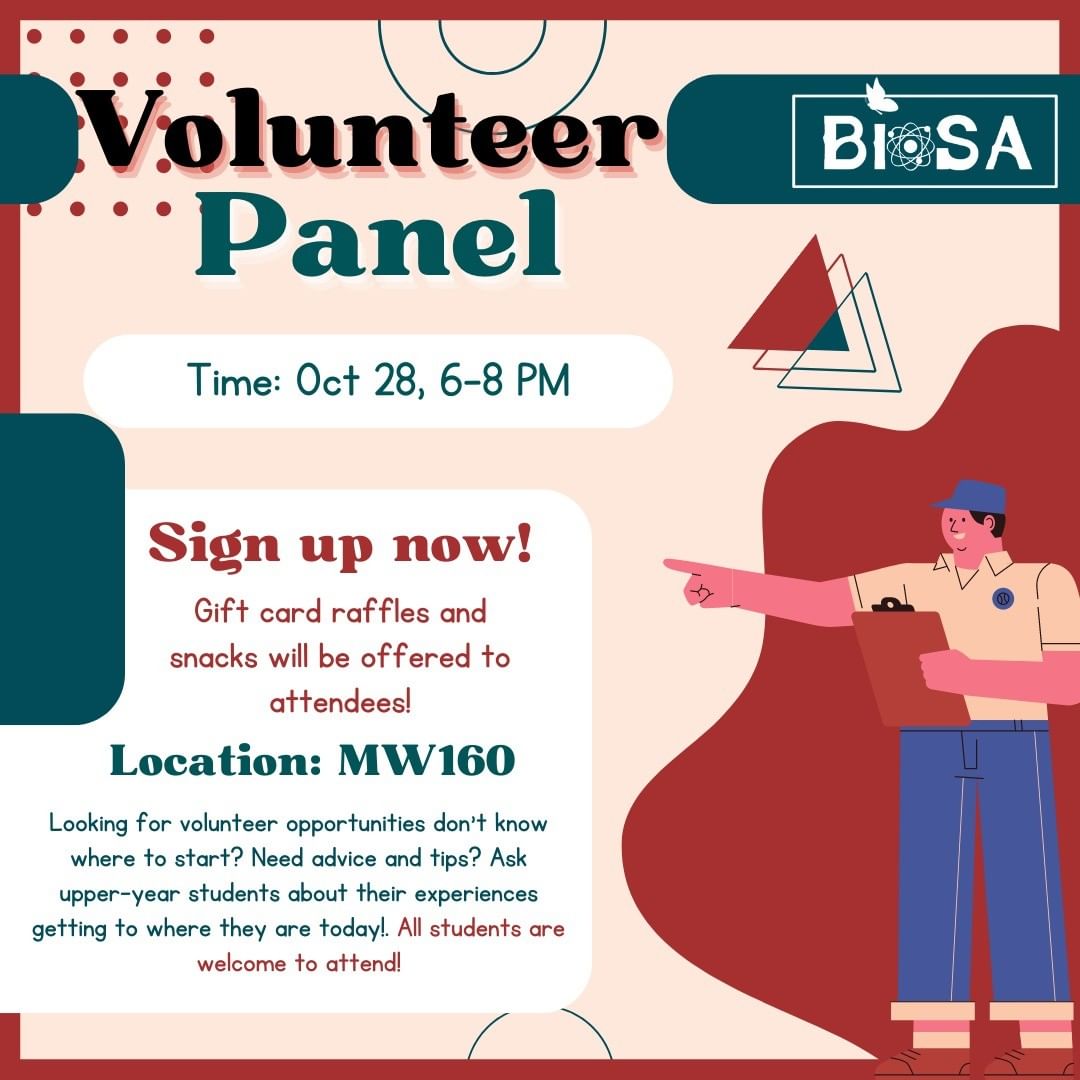 Volunteer Panel
Looking for volunteer opportunities but don't know where to start? Need advice and tips? Ask upper-year students about their experiences getting to where they are today! All students are welcome to attend!




Time: October 28, 6-8 PM | Location: MW 160